ARUBA
---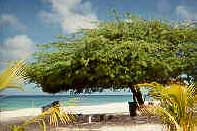 The Sunny Island of Aruba
Welcome, or as they say in Aruba, Bon Bini! Want to get away? There's no place better to enjoy the scenery, sun, beaches, water, and the wonderfu, friendly people of Aruba. Within this page you'll find some info to help you decide where to stay or what to do on that unforgettable vacation. If you enjoy eating at restaurants Aruba has everything from a Dunkin Donuts to exquisite french cuisine. Is it busy and commercialized? Yes, but if you want to enjoy great food, at affordable prices for an island, wonderful hospitality and beautiful water, sun, tropical breezes, and white, soft, sandy beaches this is the place to go. I've included lists of a few of my favorite restaurants, some recommended resorts and some beautiful pictures of Aruba. Or, if you've been to Aruba already and love it as much as I do, come back from time to time to check out new links and additional pictures.
Favorite Aruba hotels/timeshares:
Favorite restaurants in Aruba:
Gasparito

- the best. It is also an art gallery so you can enjoy the local art while having an excellent meal.

Ventanas del Mar

- very quiet, very romantic on the outside terrace. Away from all the crowds.

El Gaucho

- Tastiest steak you'll probably ever eat. If you're not a pig, you can even have left overs from the Churrasco steak

The French Steakhouse

(ohhhh laaaaaa laaaaa!!!!) - hey -- it's fun at least and it's air conditioned... If you can't get in El Gaucho go here. It's almost as good.
---
---